Process Re-Engineering
Process re-engineering is an approach at improving the efficiency and effectiveness of business processes that exist within and across organisations.
The key to process re-engineering is for organisations to look at their business processes from a clean slate perspective and determine the most efficient set of processes to improve how they conduct business.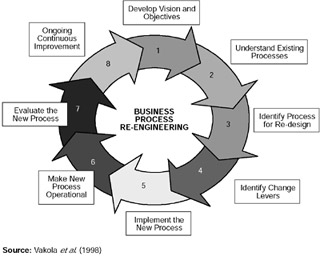 Analysing the requirements for a piece of computer software is an ideal opportunity to perform process re-engineering. There are many companies that mould themselves around their software rather than designing the software to move their company forwards.